Remember these.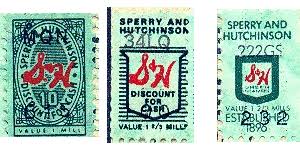 So last night, reading in bed, I come across a real flashback. How many out there remember S & H Green Stamps? Your mom, grandmother, or even you saved up these little green stamps to purchase different items.
I turned to Krip and starting talking to him about green stamps and he informed me that he remembered them. That was a surprise for me, not that he remembered them [that in itself is a revelation because he tends to have the memory of a goldfish], but I didn't know that green stamps were also on hand in the U.K. just like in the States.
What's even more amazing is that, while the physical green stamp is long gone, having faded away in the 1970's, you can still collect green stamps-aka-
green points
now on the internet . And if that's not enough, if by any chance you might have some books tucked away in cupboards or drawers, you can still redeem them 30+ years later at the
S&H Greenpoint Web Site
.
Go figure.